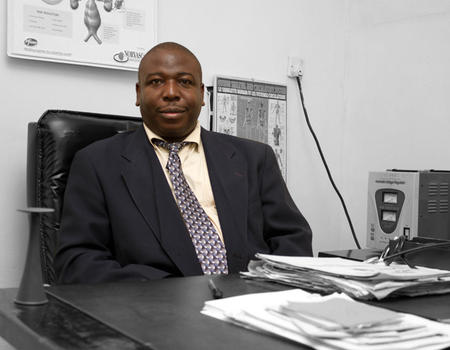 Dr Olumuyiwa Omoteso hails from Iyamoye in Ijumu local government of Kogi state. He graduated from the University of Ilorin Nigeria with Bachelor of Medicine and Bachelor of surgery in 1997. He joined Olanrewaju Hospital on 1st April, 1999 after completion of his internship and the National Youth Service.
He is viewed by staff and patients as being an uncompromising workaholic who hardly has time for his private life.
He has attended a number of CME/CPD courses over the years which includes update on neonatal resuscitation organized by the department of neonatology University of Ilorin, workshop on family planning and safe motherhood organized by Society for Family Health and UNIAD at the University of Jos teaching Hospital and a number of CME updates organized by the CME committee of the Association of private and general medical practitioners of Nigeria.
He is actively involved in public health enlightenment programmes, delivering health talks at different seminars organized by religious bodies, educational institutions and NGOs. He has also been a resource person to a number of government and private organisations including Michael Imoudu Institute of Labour Studies and Federal Training Centre, Ilorin.
Dr Omoteso also has time for clinical research despite his busy schedule. He has co-authored a number of published papers in reputable journals. A recent publication titled "household triggers of bronchospasm in children aged less than 2-years with hyperactive airway" published in the Sahel medical journal has been able to assist mothers in this locality to identify why their children presents with "asthma-like" symptoms in the hospitals.