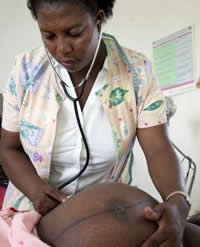 All labour cases are assigned to a personal-care midwife on admission to the delivery suite which is equipped with standard delivery beds, one of which is the ultra-modern Affinity 4 Birthing bed fitted with cardiotocograph for monitoring mothers and the fetus.
In addition, each midwife is provided with a pocket fetal Doppler for fetal cardiac monitoring.
Newborns are promptly evaluated on delivery backed by facilities to detect and manage neonatal emergencies.
There is a neonatal unit with incubators and an ultramodern phototherapy unit. The Ultra BiliLight 220 device delivers up to 12 times more phototherapy treatments than any other device in the market. With the PEP bed Bililight phototherapy delivery system, exchange blood transfusions are almost never necessary, even for the most severely jaundiced neonates.
Fertility Medical Services
One of the most important and underappreciated reproductive health problems in developing countries is the high rate of infertility and childlessness. We are committed to assisting our clients to achieve conception by careful evaluation and evidence-based management.